Beneteau Yachts are the largest and most successful bareboat charter sailboat builders in the world, and Beneteau is the most popular choice amongst charterers sailing in Greece on holiday. They utilize the most advanced methodologies to delivery exceptional quality and have been building yachts for over 100 years.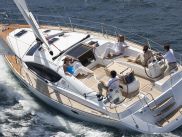 Jeanneau Yachts are safe and seaworthy bareboat yachts available for charter without compromise; strong and sturdy in all types of weather, comfortable while sailing in Greece, sure when the wind tests the sails, and always pleasant at port. Characteristics include: love of beautiful fluid lines, use of state of the art technologies, careful attention to functionality, security, and respect for nature.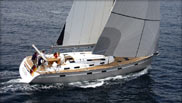 Bavaria Yachts are the most widely available yachts for charter in Greece owing to their excellent quality and value for money, and the company's wide selection of bareboat yachts performance ratio.Innovation, modern manufacturing methods, computer-aided manufacturing processes and highly skilled craftsmen from a German manufacturer.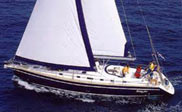 Ocean Yachts is a shipbuilder located in Greece and specializing in sailing yachts for the Greek charter market. Ocean Star yachts are recognized for their strength and sailing capabilities in Greece and globally. Safety on board is a core consideration. An Ocean Star is always well-built, enduring and offers first class yacht charter performance. The well proven construction materials, construction process, and finishings ensure the longevity of these yachts and make them ideal bareboats for sailing holidays in the Greek Islands.