The Athens Sailing Academy is an English speaking ASA sailing school in Greece offering sailing school holidays while sailing in the Greek islands. Why not learn how to Sail at a school where sun shine and warm waters abound, rather than cold cloudy skies and Foul weather gear. The areas in which we sail, the Argolic Saronic gulf and Cyclades offer excellent sailing conditions. The weather can vary from a placid force 3 to a much more exciting force 6. Its always sunny with clear blue skies and the water temperature in mid summer is very warm. All this makes the need for fleeces and wet weather gear redundant . The islands and ports that you will stop in are typically greek and un-spoilt. You will find many deserted coves and bays where few yachts still go. NOVICE SAILOR TO BARE-BOAT SKIPPER IN 10 DAYS.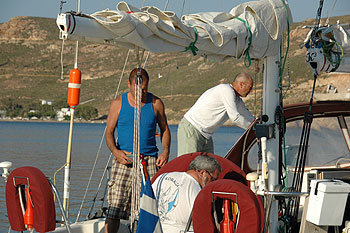 The school works with the American Sailing Association teaching scheme which is focused on teaching safe and responsible recreation sailing. The courses that are offered reflect a live aboard style teaching where you sail after you learn from the books. Learning to sailing in Greece offers many challenges not found in other waters, the most common challenge is the 'STERN TO THE QUAY' mooring manoeuvre something that all novice skippers have problems with. For the advanced sailor, join one of our adventure packages, such as our 'Yacht Racing package' or our 'Offshore milebuilder.' Whether it's 'Competent crew' certification or the 'Bare boat Skippers' License that you seek, we have courses to fit your needs.

The Athens Sailing Academy
Our base and main offices are in Athens, however we maintain a dock side facility in the Marina Alimos. Greece's largest charter yacht marina. Find out where our yachts are and the marina office here on Goggle Maps...

The Greek Islands
The area in which we teach is typically the Saronic and Argolic Gulfs. Here you will find moderate winds and calm seas. The island groups have beautiful islands and picturesque ports. You can still find coves and small secret bays where the tourists don't go. In the spring and fall we take the experienced students into the Cyclades and Dodecanese islands chains

Instructors and Tuition
The principal instructor has been sailing all his life. He has extensive racing and cruising experience and is an easy instructor to relate too. The other instructors are an international group of sailors who have amassed extensive knowledge of the Greek islands. We only employ fully qualified ASA instructors who can teach as well as sail.

Our Teaching Yachts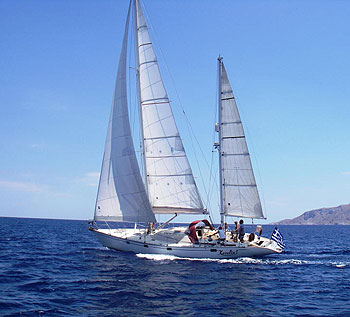 We use multiple yachts for teaching. Our main teaching platform is a 55ft performance ketch. While we teach the basics on a much smaller 25 ft sports dinghy. As a novice you will gain confidence in learning to sail this fast fun smaller yacht. As you progress we bring you back on board a large comfortable cruising yacht and take you out to learn navigation and yacht handling skills.

Private Lessons
We normally take up to 6 students on our group courses. However we also run private courses for couples and 2-3 friends. This means that you get personalized teaching and lots of individual attention from your instructors.

Course Details
We are a family-run school, not a big business, so we pride ourselves on offering a service with a smile. We are happy to help you plan your holiday. If you ask us about flight transfers, sight-seeing, hotels – we can recommend the best and most reasonable places to stay in Athens. The school clientele is mostly from professional walks of life, doctors, lawyers and a lot come from the armed services. Our instructors are also from similar backgrounds and use to working with these clients in educational situations. All teaching is conducted in English and it is imperative that you have a good knowledge of the language and able to comprehend written instructions.

Taking time to sail is difficult in these times of work and family commitments. So in order that you learn as much as possible in a limited time we have designed these sailing courses to give you the maximum from the days you may have available. Each course will include an ASA theory exam, as well as one or more ASA practical sailing exams. The training materials books etc are of the quality you would expect from a leader in sailing education. The ASA now has most theory exams on line so that you can take the exams before you arrive at your training location. Or you can bring the books with you and study as you progress though the course . Students who want to progress as quickly as possible have the following 'Live aboard' sailing courses. Please read the Athens Sailing Academy's Q & As on Sailing in Greece

YACHT CREW
Our basic course that trains a novice from no knowledge to a sailor who can tie knots, steer a sailing yacht, understand basic navigation and be a responsible crew member on a sea passage.

BARE BOAT SKIPPER This is a progression course of 7 days. Those students who have already passed their Yacht Crew can now progress to full Bare boat Skipper by taking this 7 day course.

COASTAL SKIPPER
A continuation of the Bare boat Skipper license, 1 theory exam followed by a series of Sea passages offshore and practical examinations. A 7 to 10 day course dependent on students.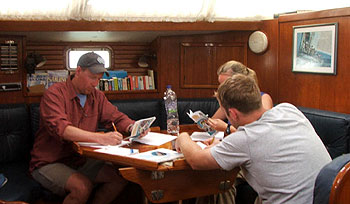 MILE BUILDING CRUISES
Our Mile building cruises have become a much sort after sailing event. You can build your experience with professional instructors or guest sailors who attend these cruises. You will learn what's it's like to live on a yacht for extended periods of time, watch keeping, night sailing all included.

LIVE ABOARD SAILING COURSES
Live aboard sailing courses are designed to give the student the maximum exposure to his new environment. Sailing and living on a yacht puts you right in the middle of this world. So reading the teaching books becomes an exercise in immediate recognition of what the book is trying to tell you.

PRIVATE LESSONS
We normally take up to 5 students on our group courses. However we also run private courses for couples and 2-3 friends. This means that you get personalized teaching and lots of individual attention from your instructors. Learn more about the private instruction on your own yacht or our teaching yachts.