Captained Yacht Charter - Greek Islands Sailing Cruises
What is a Captained Yacht Charter....

The most usual way to have a sailing holiday in Greece is to charter a bareboat yacht. This means that the charterer pays for provisions, water, fuel, mooring fees, end cleaning and must leave a damage deposit. If you don't have a qualified yacht captain in your group, then you hire a local one at around 140 euros per day plus food & tip.
The more up-market option is a fully crewed yacht charter sailing holiday. This is where you and your guests are treated like VIPs on a more expensive yacht and the crew cater to your every whim and desire. This is typically the most expensive option.
So where does Captained Yacht Charter fit?
Captained Yacht Charter lies between bareboat with rent-a-skipper and the traditional fully crewed luxury yacht charter.
A Captained Yacht Charter has the following characteristics & benefits that make it an attractive choice:
Once you board the yacht, that's itó it's all paid for! No extra charges for items needed on a quality sailing holiday.
You are not required to leave a security damage deposit.
You are not required to pay for the Captain's food and drink.
There is no hassle or wasted time for the 'Check In' or "Check Out' process, unlike a bareboat charter.
All provisions for the cruise have already been purchased and stowed ready for departure.
All official paper has been taken care of in advance.
As soon as you board your yacht you are able to leave the dock within an hour of arrival.
At the end of the charter you can leave immediately - no departure procedures.
The sailing environment is never stressful and always easy-going, relaxing and fun thanks to your expert and friendly captain!
It is not neccessary to have any sailing experience.
For those interested, you have the opportunity to learn how to sail via the captain's example,guidance and help.

If this sounds like the type of sailing holiday for you then Metallas Yachting is a recommended company with many years of experience in organizing captained yacht charters in the Greek Islands.

The company manages a selection of excellent yachts for this purpose and has a team of highly qualified captains and office personnel to help you plan and experience the best vacation of your life sailing in Greece. Metallas Yachting was founded in 1986 and its owner Captain Metallas has 35 years experience in all aspects of the Greek yachting industry.

---
Greek Islands Sailing Cruises
Hassle Free Sailing Holidays For Singles, Couples, and Smaller Groups

As an alternative to an individually chartered yacht, Aegean Cruises and Metallas Yachting offer regularly scheduled 7 & 14 Day Skippered Charterson a per person basis from April to October. If you are single or with family and friends, the only equipment necessary is love for sun, sea and fun. This option is a great opportunity to sail and explore the Greek Islands without the responsibility, cost, or experience required for a bareboat charter, but with all the fun.


Itineraries/Prices



Itineraries/Prices
You will be sailing the islands aboard a customized 45 to 55 foot sailing yacht, accomodating up to 12 guests in a functional and spacious interior with 3 to 5 double berth cabins. Whether relaxing below deck after exploring a village or sunbathing on deck after a peaceful swim in a remote bay, your comfort and enjoyment is assured.

Beginner and novice sailors will also benefit from the opportunity to learn first hand about sailing through instruction from the skipper and onboard sailing books. The skipper, in addition to being responsible for the safe and enjoyable sailing of the yacht, is also acting as personal guide and caretaker for the guests both on and off shore.


A Greek Islands Sailing Cruise with Metallas Yachting or Aegean Cruises is the ideal environment to meet people from different countries and cultures, enjoy the wonderful Greek Island life and seas, and visit the best islands and villages.

Whether it is dinner and late partying in Myconos, a stroll through the harbortown in Naxos, an afternoon spent exploring the archeological island of Delos, a morning of shopping in the chic harbor town of Hydra, or a peaceful day on an uninhabited island, you can do it all, and without the hassle and cost of booking hotels, transportation, or tours.




Featured Crewed Yacht
"Elegance Custom 53"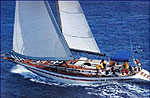 Classic Luxury Yacht
Accommodates 6-8 guests
Full amenities + Crew
Choice of Sailing Itineries
More Info »
Featured Company
Unique and exclusive crewed and bareboat sailing holdays in the Greek Islands. Many years of experience guarantee top quality holidays.