Greek Islands Sailing Itineraries & Distances Map
The Greek islands of the Aegean are among the most beautiful and interesting sailing areas in the world. Bounded by the Greek mainland to the west and north, the Turkish coast to the east, and the island of Crete to the south, the islands dot the skyblue Aegean waters in clusters bearing the names Ionian, Sporades, Cyclades, Saronic, and Dodecanese. The remnants of early Greek civilization, the timeless quality of customs unchanged for centuries, and nature's unique display of beauty in sea, sky, and land combine to make cruising these waters an unforgettable experience.
The glorious Greek archipelago is impressively made up over 3000 islands, of which only 140 are inhabited. Each island has its own unique style, charm and history. The stark white cubic architecture of the Cyclades is dramatically different from the Venetian architecture found in the Ionian or the Gothic seen in the Dodecanese. You will have the opportunity to sample different local specialties and wines. There is an island for everyone; whether you are seeking quiet laid back shores or lively beaches and party filled nights. Crystalline waters, steeping cliffs, hidden coves and lush forests are just part of what draws people to the Greek Islands. Come and you will experience in many places, a way of life that has endured for centuries.

Featured Crewed Yacht
"Elegance Custom 53"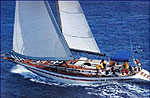 Classic Luxury Yacht
Accommodates 6-8 guests
Full amenities + Crew
Choice of Sailing Itineries
More Info »
Featured Company
We are a family owned business with a history of sailing in the Greek & Mediterranean waters. We charter and manage our own yachts and offer exceptional service to our guest. In addition to providing private yachting holidays in Greece, we also cater for private and corporate functions.