Reasons to Sail in the Greek Islands - Why Charter a Yacht in Greece?

Chartering a bareboat or catamaran in Greece with friends or family is an economical & unique way to explore the beauty of the Greek Islands while enjoying the thrill of sailing. Nothing compares to the freedom and excitement one feels on a sailing yacht travelling around the Greek Seas.

Greece has over 3,000 islands and islets and a coastline of more than 15,000 km.,what else could a discerning sailor ask for? This makes Greece an ideal country for chartering a yacht or catamaran.

While Greece has always attracted sailors, drawn by the fascination of some of Europe's earliest civilization, the majority of today's sailors are also drawn by Greece's islands, beaches, sunshine and beautiful seas. Greece has more coastline than any other country in Europe. You can choose between rocky outcrops, pebbled coves or long swathes of golden sand. Greece has clung to its traditions more tenaciously than most European countries.

Many traditions take the form of festivals, where Greeks express their love for life through dancing, singing and feasting. But don't think for a moment that Greece is trapped in a time warp. In towns and cities you will find discos as lively and cosmopolitan as any in Italy, France or Britain, and boutiques as trendy. Explore and you will discover that in addition to its outstanding beauty, Greece is one of Europe's most relaxed and friendliest countries.

With a mediterranean climate and warm sun from April to September, the sailing season is more than 6 months. The peak season is from July to August, and these 2 months are very busy in some places, but there are always quiet, unexplored islands to go to, and whereever you go you can be certain of locating a way of life very Greek in flavour! Out of season sailors can be seen in early Spring and they stay until the late Fall, when sea temperatures are still warm enough for swimming. July and August peak in terms of heat (30 - 45 degrees C) with daylight ending at 9:00 pm in middle of the summer. This jives with the Greek way of eating, drinking and enjoying all that life has to offer after the sunset and well into the next morning!

There are so many island groups to choose from and each island is unique with its own people, topography, history, traditions, food and customs. One could spend literally years exploring all the islands, ports, beaches and anchorages in Greece. The Greek Islands all differ in weather, wind and sailing conditions, tourism, popularity, culture, history, sightseeing and beaches ect...

Of course, sailing is possible in many parts of the world but most sailors would agree that nothing compares to the Greek Seas and the Greek peoples' hospitality. Sailing, swimming or just laying on the beach in Greece is superb, why else is it called the "land of the Gods". Come to Greece and charter a yacht to see for yourself!

Please note that yachts in Greece are typically chartered out of Athens for a period of at least one week,usually from Saturday-Saturday, but you can arrange to pick up or drop off a yacht via charter bases located in the Cyclades,Dodecannese,Sporades or Ionian. Qualified multi-lingual skippers who are familiar with the Greek Seas & islands can also be arranged for persons not holding a valid sailing license.

For complete information about sailing areas in Greece visit the Greek islands itineraries pages.



Featured Crewed Yacht
"Elegance Custom 53"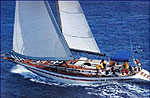 Classic Luxury Yacht
Accommodates 6-8 guests
Full amenities + Crew
Choice of Sailing Itineries
More Info »
Featured Company
Epic Yachts &Villas has been established in 2017. Our office is located in Alykes Potamou, Corfu-Greece. We are accredited by the Greek National Tourism Organization (GNTO- License Nr:0829E63000103101) as well as being a member of the Hellenic Yacht Brokers Association (H.Y.B.A) and Hellenic Association of Travel and Tourist Agencies (H.A.T.T.A.).