Sailing Itineraries in Greece - Ionian Islands

Destinations » Ionian Islands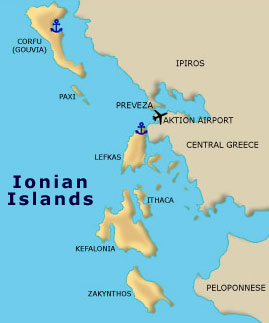 The wind and sailing conditions in the Ionian Sea are ideal and predictable. From May to September the wind blows from North-West at Force 2-5. In Spring and Autumn the wind is less strong and blows usually from South-West.An ideal starting point for your cruise is our base in Gouvia Marina, about 15 minutes from Corfu International Airport.

The Ionian Islands located on the western side of mainland Greece, are seven main islands that distinguish from many of the Greek islands by their fertile land (blanketed with olive groves sustained by the winter rains) and clear blue waters. The mixture of different civilizations and cultures is harmoniously welded together into one piece that is undoubtedly Greek, in a complex of islands where the most beautiful beaches of the Mediterranean can be explored.

The Ionian group is situated off the west coast of mainland Greece, but it is more reminiscent of Corfu's neighbor Italy. Because of the high amount of rainfall it receives, the vegetation is lusher than on the other islands. Each of the islands has it's own unique culture and cuisine.

CORFU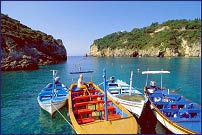 Corfu's close proximity to Italy has played a great role in its development. It is the northern most island in the Ionian group, with a coastline of 217km, and the greenest. With its luxuriant landscape of scented wild flowers and cypress trees, Corfu is thought by many as Greece's most beautiful island. The islands capital, Corfu Town is a mélange of foreign influences. Constructed during the French occupation, the Liston, a string of arcaded buildings was modeled on Paris' Rue de Rivoli. The enchanting old town with its two Venetian Fortresses is more reminiscent of Venice or Naples than Greece. The gardened Spianada boasts Greece's only cricket grounds, a remnant of the British occupation. Moving north from Pyrgi you will encounter some of Corfu's most captivating scenery. Corfu's best beaches are on the west coast, there are several to choose from. Paleokastritsa is the coast's largest resort. Bordered by emerald waters, with sandy and pebbled coves and a green mountain backdrop, Paleokastritsa is beautiful.
The long stretch of inviting sand and dunes between Lake Korission (freshwater) and Issos is one of the least spoilt stretches of Corfu's coast.
THE DIAPONDIA ISLANDS
Ereikousa, Mathraki, and Othoni
Situated only 3-7 nautical miles from Corfu but often isolated by tricky seas, these cluster of little known islands are worth the extra effort to visit.
PAXI & ANTIPAXI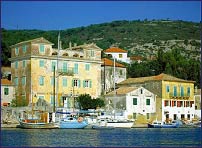 Paxos, the smallest of the Ionian group, is but 10km in length and 4km wide. It has an enchanting terrain of twisted, ancient olive grooves. People who come are drawn to its quiet shores and cozy harbors. Set on a broad bay is the capital Gaios with its pink, cream and whitewashed red-tiled buildings, it is s lovely sight. At the entrance of the bay lies Moni Panagias Islet, named after its monastery, and almost filling the harbor is Agios Nikolaos Islet, which has a Venetian Castle and a windmill. On the north coast, situated on a deep narrow bay is the pretty harbor of Lakka, it is a popular yachtie destination.
Paxis's tranquil east coast has small pebble beaches, while the west coast has awe-inspiring views of steep cliffs, and marine caves only accessible by boat.
ANTIPAXI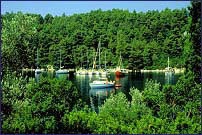 The tiny island paradise of Antipaxi lays 2km south of Paxi, it is only 5sq km. Excellent wine is produced from the grape vines that blanket the island. Voutoumi Beach is very lovely, there is a taverna high on the cliffs above. Sandy Vrika Beach at the northeastern tip also has two tavernas.
LEFKADA
The 25m strait separating Lefkada from the mainland is spanned by a causeway. It is a mountainous island of dense forests and olive groves.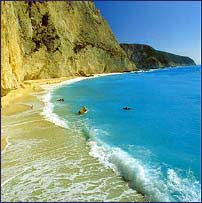 Set on a headland of a salt lagoon is the island's capital Lefkada Town, it is mainly a yacht port. Beyond the windmills, west of the lagoon is Agios Ioannis Beach, the sunsets from here are remarkable. With both pebbled and sand beaches, the lovely fishing village of Vasiliki is supposedly the best windsurfing spot in Europe. From here you can sail to the best sand beaches on the west coast, which include Egremini, Kathisma, Porto Katsiki and Agiofylli Beach.
Maganisi and Kalamos are amongst the largest of Lefkada's 10 satellite islets. With its lush landscape and emerald waters, the quiet islet of Meganisi is a popular yachting destination. It has only three settlements: the port of Vathy, Katomeri and the charming capital, Spartohori. The forested, alpine islet of Kalamos is gorgeous. Again a more popular destination with yachters.
ITHAKI (ITHACA)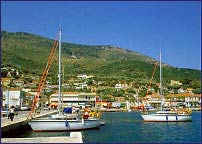 Separated from Kefallonia by only 2 to 4km Ithaki is an unspoilt island with green mountains and deep emerald bays. The bold outline of the cliffs is impressive. The coast is indented by numerous small harbors and creeks. Ancient Ithaca has been inhabited since the 3rd century BC, it was the long lost home of the mythical hero Odysseus.
Vathy, the main harbor and capital, is a small town of twisting streets and lovely cafes and tavernas. Descending down the lush mountainside into a charming little harbor is the small fishing village of Kioni. It is a very popular yachting destination.
The best beaches lie on the stretch of coast between Kioni and Frikes.
KEFALLONIA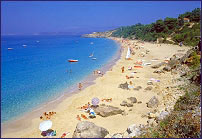 As you sail towards Kefallonia, the largest of the Ionian Islands, you will see Mt Enos (1520m) towering in the distance. Characteristic features of the beautiful landscape are the noble fir forests; the currant vineyards; the olive groves; and wild flowers from which perfumes are made. The local wines are excellent. The capital of the island is lively Argostoli. Its delightfully situated some way up the gulf of Argostoli in a inlet so shallow that a British built causeway was constructed in 1813, to connect it with the rest of Keffalonia. 2.5km from the island's main port, Sami, is Melisani Cave, a subterranean sea-lake. Drogarati Cave has spectacular stalactites. KTEL organizes tours to both sites.
An exceptional white sandy beach is Myrtos. Nearby you will discover by boat, hidden coves wedged between tall limestone cliffs.
ZAKYNTHOS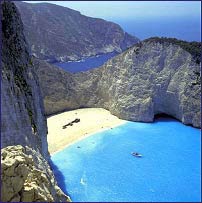 Situated only 21km west of the Peloponnesian coast is Zakynthos with its fine sand beaches, mysterious marine caves, and fragrant wild flowers. In the west of this volcanic island the land is mountainous and the coast rocky. Loggerhead turtles come ashore to lay their eggs on the golden sand beaches of the huge Bay of Laganas. The famous Shipwreck Beach (Navagio) is an exquisite beach of translucent, turquoise water. As you sail to the northernmost tip of the island to Cape Skinari, you will glimpse a number of caves. After your boat passes under three stone arches you will reach the blue cave, where a most breathtaking spectacle awaits you.
KYTHIRA & ANTIKYTHIRA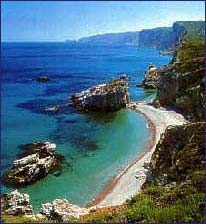 Located only 10 nautical miles from the Peloponnese, the quiet shores of Kythira, is an ideal destination for those seeking tranquility. It is a romantic place with mist-covered moors, twisting stone walled alleys and hidden valleys. There are more than forty villages spread evenly across the island. The island's pretty capital Hora is situated along a steep cliff, 300m above the picturesque village of Kapsali. Kapsali's restaurant and cafe lined waterfront is set on two sandy bays. Its turquoise waters are enticing, it is a perfect spot to anchor and have a swim. There are several charming and attractive villages to visit, such as the luxuriant, Karavas and lovely Avlemonas, via Paleopoli with its wide pebbled beach. Other good beaches include Kaladi Beach and Fyri Ammmos.
ANTIKYTHIRA
The little island of Antikythira is the most isolated, of the Ionian group, it is located 38km south of Kythira, with a population of 70. It has only one settlement, Potamos, one doctor and one teacher.
7 Day Ionian Yacht Charter





14 Day Ionian Yacht Charter




Ionian Islands Sailing Distances Calculator




Instructions:

Focus the map on your desired sailing area by clicking (holding) and dragging
once you are seeing your desired islands, start clicking them in the order you plan to sail
the map will automatically update to show the estimated nautical miles of the whole trip
to remove the last point, simply click the button below the map 'Clear last'
to clear the whole map and start again, click 'Clear map'
if needed, click 'Zoom to fit' to show the entire sailing route

Total Nautical Miles:

0.000
Saronic Gulf
Cyclades Islands
Dodecanese Islands
Sporades
Featured Crewed Yacht
"Elegance Custom 53"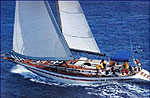 Classic Luxury Yacht
Accommodates 6-8 guests
Full amenities + Crew
Choice of Sailing Itineries
More Info »
Featured Company
Since 1999 our family owned company has been offering top-quality yachts and excellent service to yacht charterers in Greece. Together with our UK partner company All Seas Sailing ltd., our goal is to provide memorable sailing holidays at reasonable rates.