Welcome to Ikaria (Icaria), majestic island of the Aegean Sea & home of the mythical Ikaros. Visit Ikaria and discover pure nature, wild beauty, stunning mountain landscapes, unspoiled beaches, therapeutic hot springs & friendly people.

Rare amongst the Greek Islands, Ikaria has remained true to herself and to the ways of her people - the Ikarians.
Tourism on Ikaria unimposing for all and reflects an "Ikarian Balance" between nature, freedom, time & development.

See why CNN named Ikaria »»
The Best Greek Island for Nature Lovers.
Ikaria is also 1 of only 5 worldwide BlueZones - regions of extraordinary longevity & health.

Ikaria offers something for everyone: remote & cosmopolitan beaches, choice of accomodations, the famous Ikarian "Panagiria" (celebrations with music, dancing, food & Ikarian wine), archeological & religious sites of interest, wineries, language & cooking classes and fun outdoor activities.

Island Ikaria, Greece adventure travel activities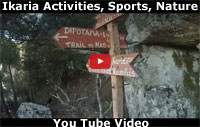 include: hiking & walking, cycling & mountain biking, kayaking, fishing, caving, snorkeling, sailing, beach & jeep safaris, sightseeing trips & Longevity BlueZone tours.
Choose from Daily, 7 or 5 Day All Inclusive Tours.

Crewed and bareboat charter in Ikaria, Greece is available on a daily or weekly basis. Sail around Ikaria and to the nearby Greek islands of Mykonos, Patmos, Samos, Fourni & beyond. If you are interested in sailing around Greece on a catamaran or bareboat yacht charter before, during or after your holiday in Ikaria please see the information for yacht charter in Greece.
Looking for a Greek island holiday off the beaten track, with the feel of authentic old world Greece, away from the crowds and surrounded by amazing nature & friendly people who are not just interested in taking your money? - Then visit Island Ikaria!

Ikaria is located less than 2 hours from Mykonos & Patmos, making it an easy to get to & must see place on your next Greek Island holiday.
Activities & Tours
Fun & Adventure
Discover Ikaria!

Daily Activities &
All Inclusive Tours

---
Villa For Rent »»
Luxury - Seaview
3 Bedrooms-2 WCs
Armenistis-Nas