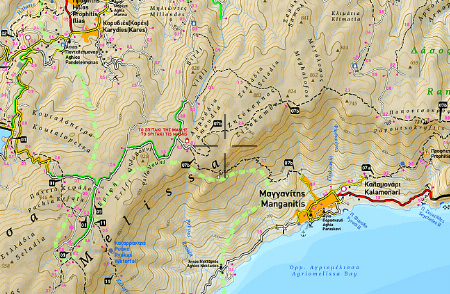 Ikaria is of special interest to adventure travel nature loving hikers & walkers of all ages and abilities. For thousands of years people have been traversing the myriad mountain paths of Ikaria. In former times these paths or "monopatia", made up a transportation web that connected Ikaria's farflung villages with the people's farming and commercial activities in the mountains and at the sea.

Today, through a combination of continued use and local & international preservation efforts, many paths are still in operation and able to be enjoyed by visiting hikers/walkers. Your stay in Ikaria would be incomplete without making a trip on a "monopati", a worthy holiday experience that connects Ikaria's history, culture and nature. Visitors to Ikaria interested in hiking/walking have several options available to them for discovering Ikaria's "monopatia".
---


Perhaps the safest and most enjoyable way is to
Take a Guided Hike/Walk with Island Ikaria Outdoor Activities who offer Hiking/Walking Day Trips on a per person or group basis. The trip includes knowledgeable mountain guide, transportation, monastery visit and picnic lunch.

On a guided hike/walk you and your group/family will be accompanied by an experienced & knowledgeable Ikarian mountain guide who, depending on your ability, time and wishes, will create a customized Ikarian Hiking/Walking Experience. You'll appreciate the stories, descriptions and facts about the local environment and history of the region/trail you select together. You will also be provided with lunch and hiking poles, and the mountain escort/guide is equipped with a Satellite phone and first aid kit for your safety.


---

One example of the many hiking tours available is situated in the village region of Christos-Raches in Ikaria's north-northwestern area. Forming a circle, the trail's distance is approximately 25km and spans an altitude from 0 to 500m through bush, forest and farmland, on ancient paths and trails, stone-paved mule tracks and dirt roads. Picturesque villages, steep slopes, old stone bridges, clear lakes and small rivers are only a part of the enchanting landscape you will encounter along the way.