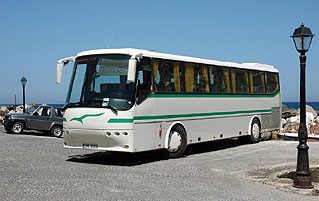 Local transportation on Ikaria is via bus, taxi, boat, or hired car/motorbike. During the summer season scheduled daily bus service connects the capital, Agios Kirikos, with Therma, Faros, Evdilos, Armenistis and Raches, including all the villages along the way. Groups can arrange for private bus/minivan hire with any of the local travel agencies.

Taxi stands are located in Agios Kirikos, Therma, Evdilos, Armenistis and at the airport in Faros. For planned excursions its best to reserve a taxi ahead of time, especially in summer. Local taxi drivers; Apostolis Kanagios in Evdilos (+30 6972021809) and Stamatis Perris in Agios Kirikos (+30 6977841327), speak English and can be contacted in advance.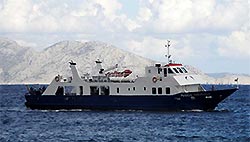 The local ferry boat Panagia Theotokou connects Agios Kirikos - Manganitis - Trapalou - Karkinagri. The schedule varies depending on the season. Ask at a local travel agency or call the captain, Mixalis Karnavas on +30 6977733593.

Ikarian water taxis called "Venzinas" connect Agios Kirikos and Therma regularly throughout the day in the summer, and can also be hired by groups for day excursions around the island.





Truthfully, the best way to get around and see Ikaria is to self-hire a jeep, car or motorbike and drive on the beautiful coastal and mountain roads at your leisure. Gas stations are located in Agios Kirikos, Xilosirti, Ploumari, Miliopo, Evdilos, Karavostamo, Kosikia, Avlaki and Christos Raches.