IKARIA is part of the North-Eastern Aegean Islands and is located 144 NM east of Piraeus (Athens). Nearby islands include Mykonos to the west, Patmos to the south, Samos to the east, & Xios to the north. Ikaria is easily and conveniently reached by air year round directly from Athens via Olympic Air (flight time 35 minutes) and from Crete,Thessaloniki and Mytilini via SkyExpress.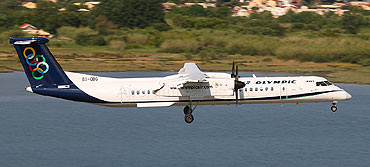 Visitors from Europe can also choose to fly into the airport of the nearby island of Samos (SMI) which has direct charter flights from various countries in Europe including Switzerland, Germany, the UK and Holland, and then take the daily ferry to Ikaria. (1.5 - 2.5 hours)

The national ferry boat lines Hellenic Seaways and Nel Lines regularly connect Ikaria with Athens (Pireaus Port), Syros, Mykonos, Fourni, Samos and Chios. In summer time the ferryboats from Athens to Ikaria typically take between 7:30 - 9:00 hours depending on the boat, the weather and intermediary ports.
If you are staying in or near Armenistis it is better to arrive at the harbor of Evdilos because the drive to Armenistis is only 20 minutes, as opposed to 1 hour and 15 minutes from Agios Kirikos.

A weekly ferry boat departing from Thessaloniki on Nel Lines also connects Ikaria to Samos, Chios, Mytilene, Limnos and Kavala.
Connections to Ikaria from Turkey (Kusadasi-Ephesus) are also possible via the daily ferry from/to Samos-Kusadasi April 1 to October 31.

Ikaria's Airport Code is: JIK
Ikaria has 2 harbors: Evdilos in the north and Agios Kirikos, the capital, in the south.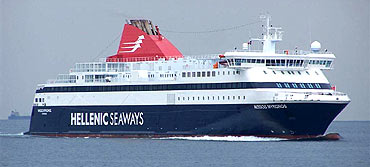 Open Seas Online Ferry Boat/Catamaran Schedule For All Greek Islands

Hellenic Seaways F/B Nisos Mykonos Summer 2015 Schedule From April 27th - June 14th:
PIRAEUS - SYROS - MYKONOS - EYDILOS(Ikaria) - AG. KIRIKOS (Ikaria) - KARLOVASSI(Samos) - VATHI (Samos) - CHIOS - MYTILINI - LIMNOS - KAVALA

Hellenic Seaways F/B Nisos Mykonos Summer 2015 Schedule From June 15th - September 6th:
PIRAEUS - PAROS - NAXOS - EYDILOS(Ikaria) - FOURNI - KARLOVASSI(Samos)

Hellenic Seaways F/B Nisos Rodos Summer 2015 Schedule From June 15th - September 6th:
PIRAEUS - SYROS - MYKONOS - PATMOS - AG. KIRIKOS (Ikaria) - VATHI (Samos) - CHIOS - MYTILINI - LIMNOS - KAVALA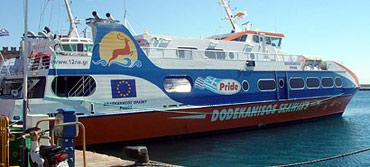 Dodecanese Seaways F/B Dodecanise Pride: Summer 2015 Schedule from July 6th - September 6th:
Vathy(Samos) - FOURNI - IKARIA (Agios Kirikos) - PATMOS - LIPSI - LEROS -KALYMNOS - KOS - KALYMNOS - LEROS - PATMOS - IKARIA(Agios Kirikos) - FOURNI - SAMOS







SkyExpress Flights from Ikaria to Limnos, Thessaloniki
SkyExpress Flights from Thessaloniki to Limnos, Skyros, Ikaria, Mytilini
SkyExpress Flights from Heraklion to Mytilini, Ikaria, Rhodes, Kos, Athens, Samos, Chios
SkyExpress Flights from Limnos to Thessaloniki, Mytilini, Ikaria, Chios, Samos, Rhodes
Local Transportation in Ikaria